Below is a letter as part of our holiday giving series from our co-founder Gary Hillerson inviting you to give the gift of support to young families with cancer this holiday season.
Dear Friends,
Cancer is a horrible disease that takes an incredible toll on cancer patients. It also inflicts major change and stress on the patient's family and friends. I can personally attest to the hell that my daughter, Laurel, and our family has been through over the two and a half years since Laurel was diagnosed with stage 4 colorectal cancer.
Watching Laurel struggle with pain, loss of income, finding time to be a conscious parent a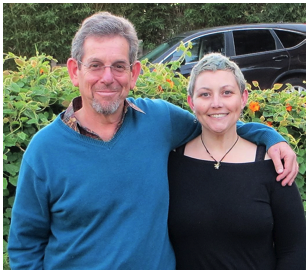 nd spouse, and the endless medical appointments has been horrendous.
Watching granddaughter Fiona and son-in-law Steve try to cope with mommy being sick and unavailable has been heartbreaking. Witnessing the financial struggles and the reality of dealing with a healthcare system that can be brutal has been frustrating and dismaying. Laurel, her family, and all of us in her inner circle are frazzled from long-term stress and crammed schedules.
Kids like Fiona need to interact with other children with very sick parents. Patients like Laurel need a central hub for resources like groups and end of life planning and a place to find temporary respite in the middle of a day full of medical visits. Parents like us need support groups to help us process our grief and hopelessness. That's a big part of why I helped Laurel to start Fiona's Family House, and that's why I'm hoping you'll consider contributing.
What a gift to be able to give support, healing and respite to families in that situation, like mine. This year, all the adults on my Holiday List will get the gift of a donation to Fiona's House in my Laurel's name. If your family, like mine, knows what it is like to face these challenges, I encourage you to join me in making sure kids, husbands, wives, moms, dads and siblings can get help through Fiona's Family House. I am sure it will be the most meaningful gift you give or receive.
With gratitude,

Co-founder, Fiona's Family House
Proud Parent of a Young Adult with Stage 4 Cancer