Below is a letter as part of our holiday giving series from our co-founder Laurel Hillerson-Spear inviting you to give the gift of support to young families with cancer this holiday season.
Dear Friends,
As the year draws to a close I gratefully reflect how my life has changed in 2016. In the past 11 months, I've had major surgery, attempted four different chemotherapy protocols, ended my paid career to allow more time for my rigorous treatment schedule, watched my daughter start kindergarten, struggled for my relationship, and fought with health insurance more times than I can count. Yesterd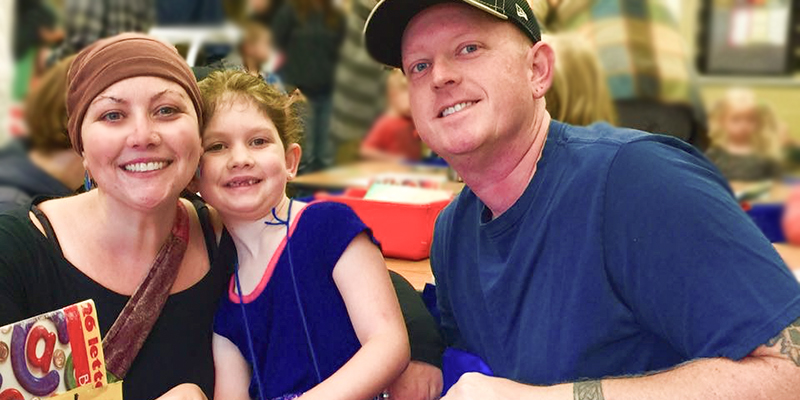 ay I reached my expiration date, more commonly known as 2 ½ years after I was told I had 2 ½ years to live. I didn't expect to see the holidays this year, and I am so grateful to be alive in spite of the terminal cancer diagnosis that I was given just weeks after I turned 32.
Perhaps the most exciting part of 2016 was seeing my vision of an intentional healing community for young adults with advanced cancer and their families transform from a dream to reality. Although young adult cancer represents less than 5% of all cancer diagnoses, it's not rare to know someone who has been had their life derailed by this disease. I felt alone, isolated, and absent from my peers when I sought support. I started Fiona's Family House to honor my daughter and the healing role she has played in my cancer journey. My family and I founded this organization after realizing that our new normal was unique within the cancer community; we wanted families like mine to have a space to be together in community with others who know what it's like to be in our unique situation. We understood that we could play a role in transforming the medical community and safety net services for young adults with advanced cancer and their families in Santa Cruz County and beyond.
What a gift to be able to give support, healing and respite to families in that situation, like mine. This year, all the adults on my Holiday List will get the gift of a donation to Fiona's House in their name. If your family, like mine, knows what it is like to face these challenges, I encourage you to join me in making sure kids, husbands, wives, moms, dads and siblings can get help through Fiona's Family House. I am sure it will be the most meaningful gift you give or receive.
With gratitude,

Founder, Fiona's Family House
Mother and Stage IV Rectal Cancer Thriver