Below is a letter as part of our holiday giving series from our co-founder Laurel Hillerson-Spear inviting you to give the gift of support to young families with cancer this holiday season.
Dear Friends,
This is my reason to give a meaningful gift this year to Fiona's Family House.

My incredible niece Rachel, seen here helping me at a fundraising event, lost her Mom 29 years ago to Lymphoma when she was 9 months old. My sister Kris was joyful, funny, kind and fiercely creative. She wanted to be a mother more than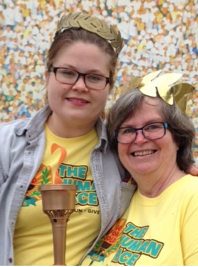 anything, and Rachel was to be the first of a big family. Kris was diagnosed with cancer when she was 6 months pregnant and delayed the start of treatment to give Rachel a chance. Chemotherapy started the day Rachel was born. Kris made it to her twenty-fifth birthday, but never saw any of Rachel's.
The challenges we faced as a family supporting a young Mom with Cancer were overwhelming. We felt alone, exhausted and misunderstood as we tried to juggle treatment, infant care, need for income and so much paperwork!   I am honored and inspired by my friend Laurel's vision in founding Fiona's Family House and am serving on the Board and helping with fundraising. She sees clearly a way to support families like hers who are trying to deal with the crisis that a Cancer Diagnosis brings to a young adult with family and work obligations.
What a gift to be able to give support, healing and respite to families in that situation, like mine was and Laurel's is. This year, all the adults on my Holiday List will get the gift of a donation to Fiona's House in my sister Kris' name. If your family, like mine, knows what it is like to face these challenges, I encourage you to join me in making sure kids, husbands, wives, moms, dads and siblings can get help through Fiona's Family House. I am sure it will be the most meaningful gift you give or receive.
With Hope,

Karen Delaney
Volunteer Center Executive Director
Fiona's Family House Board Member